Description
3-In-One DMM/TDR Cable Fault Finder for Energized or Unenergized Cables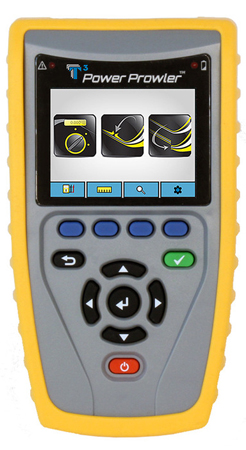 The Power Prowler™ multi-function time-domain reflectometry (TDR) cable fault finder can identify faulty cables and has the ability to accurately measure the distance to the fault. The Power Prowler can be used on energized or un-energized cables and is suitable for AC and DC voltages up to 600 volts and incorporates a Live Event Detection function that's ideal for pinpointing intermittent faults.
The digital multimeter function measures AC and DC voltages, impedance and continuity. A special low impedance function (LoZ) function is available to eliminate ghost voltages caused by EMI interference from associated equipment and drives.
The easy-to-use Power Prowler is supplied with a convenient hanging pouch, cable leads, a range of connectors and has a bright, easy-to-read, full-color screen. Additional optional cable accessories can be ordered separately.
Cable Fault Detection
Identify shorts and open circuits using time-domain reflectometry (TDR)
Measure distance to fault and total cable length
Selectable velocity of propagation (VOP) feature, including library of common cables
VOP calibration feature
Cable and fault information shows on screen
Hold function to retain information for further use
Live Event Detection
Monitor cables for intermittent faults
Automatically stop test once fault identified
Retain information on screen until cleared
Time stamp the fault
Selectable VOP
Digital Multimeter
True AC RMS voltage measurement up to 600 volts at frequencies between DC and 1 KHz, 10 MΩ input impedance
DC voltage measurement from 0-600 volts, 10 MΩ input impedance
Auto AC/DC LoZ voltage measurement with low (1 kΩ) input impedance to eliminate ghost voltages caused by EMI
Resistance measurement
Continuity testing
Manual and auto ranging
Maximum and minimum voltage measurement
Other Features
Three selectable languages: English, Spanish and French
Soft keys for increased versatility
---
Overview
Large color LCD display
Easy-to-use
High quality industrial grade accessories and adapters
Built-in list of cable types and their VOP values
Audio indication when a change/fault is detected
Favorites list for commonly tested cable types
Capable of accuracy to fault of better than 1%
Control over powersaving features such as auto-off and backlight dim
Multilingual (English, French, Spanish)
Features
Digital Multimeter
DC Volts, 10M Ohm input impedance
AC Volts, 10M Ohm input impedance
AC Volts with a lower impedance to reduce ambient noise pickup
Continuity with audible signal for low resistance
Ohms measurement
Fault Location
Quick picture of existing cable faults & condition
Measures accurate distance to shorts or open faults
Measures cable length
Library of common cable type VOP values
VOP Calibration
Live Event Detection
Continuous monitoring for intermittent faults
Detect, locate and characterize cable faults
Ability to time stamp events
Specifications
Measurement Technology
Spread Spectrum Time Domain Reflectometry
U.S. Patents and Patents Pending
Multi-Meter Section
Description
Range
Resolution
Accuracy (% + counts)
DC Volts
600V
400.0V
40.00V
4.000V
1V
0.1V
0.01V
0.001V
±(0.5% + 2)
Auto-V LoZ
True-rms
600V
400.0V
40.00V
4.000V
1V
0.1V
0.01V
0.001V
±(2.0% + 3) DC, 45~500 Hz
±(4.0% + 3) DC, 500~1 KHz
AC Volts
True-rms
600V
400.0V
40.00V
4.000V
1V
0.1V
0.01V
0.001V
±(1.0% + 3) DC, 45~500 Hz
±(2.0% + 3) DC, 500~1 KHz
Ohms
400.0 KΩ
4.000 KΩ
40.00 KΩ
400.0 MΩ
4.000 MΩ
0.1Ω
0.001 KΩ
0.01 KΩ
0.1 MΩ
0.001 MΩ
±(0.9% + 2)
±(0.9% + 2)
±(0.9% + 2)
±(0.9% + 2)
±(0.9% + 2)
Languages
English, French, and Spanish
Power
6 AA alkaline batteries, typical battery current:
Off mode – 4.25 uA
Multimeter mode: 81mA with backlight, 41mA dim backlight
Fault Location: 82mA – one test per minute with backlight
Live Event Detection: 115 mA when active with backlight, 75 mA dim backlight
Battery Life
6 AA alkaline batteries
Standby – life of the battery
Operating – 20 to 30 hours, mode dependent
Batteries are included
Maximum Range
12,000 ft (3,657 m) at .999 VOP
Maximum testable cable length varies with VOP and cable type.
VOP (%) with 3 digit precision ranging from 20.0% to 99.9%
Output Connector
Banana Jacks 600V CAT III
Leader Cable
Cable Assembly, 5 ft. (1.5 m) 600 Volt CAT III, 95 Ohm
Altitude
6,500 ft. (2,000 m) operating
Temperature
Operating: 14 to 122°F (-10 to 50°C);
Storage: -4 to +140°F (-20 to 60°C)
Humidity
10 to 90% non-condensing
Enclosure
High-strength PC/ABS plastic with V0 rating with boot
Size
1.85"H x 3.6"W x 6.8"L (4.7 x 9.15 x 17.3 cm)
Weight
With batteries: 1 lb 2 oz (510 g)
Safety
Compliances
Complies with ANSI/ISA 82.02.01 (61010-1) 2004, CAN/CSA-C22.2 No 61010-1-04, UL 6101B (2003) and IEC/EN 61010-1 2nd Edition for measurement Category III, 600 V, EMC EN61326-1
Warranty
1 Year