Description
Test & Speed Certify Ethernet Network Cables to 1 GB
The Net Chaser™ Ethernet Speed Certifier offers a complete solution to test and speed certify the data-carrying capabilities of Ethernet network cables up to 1 Gb/s by testing for noise in the network, detecting faults in the cable wiring, and ensuring that cables are able to support the speed capabilities of active equipment.
Speed Certification to IEEE standards 802.3
Cable testing to TIA568A/B
The NetChaser's advanced discovery gives the clearest vision of network layout and interfaces between active components like servers, switches, routers, etc. All the information is collected, stored, and ready for reporting.
Pings specific IPs or URL addresses
DHCP
Traceroute
VLAN
---
PROMOTIONS
---
CABLE TESTING
To certify Ethernet speed performance of cable runs, the Net Chaser™ conducts Bit Error Rate (BER) tests (using Active Remote) by sending data packets down specified cable runs at defined data rates to check for errors at the maximum throughput of the link. The Net Chaser™ reports on signal quality that can impact high-speed data transmission by measuring signal-to-noise ratio (SNR). Skew measurements report on the signal time delay between pairs that can impact Gigabit data transmission. Finally, the Net Chaser™ unit provides continuity testing that detects opens, shorts, miswires, split pairs, reversals, and high-resistance faults while accurately measuring distance to faults and total cable length.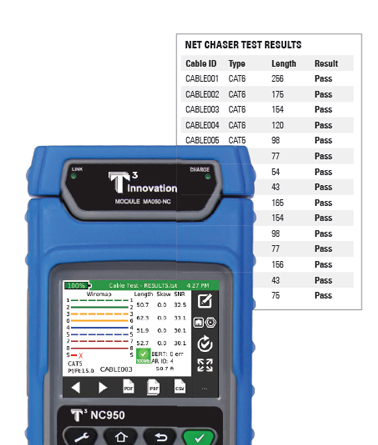 NETWORK CONFIGURATION AND CAPABILITY TESTING
The Net Chaser™ includes a comprehensive set of features for testing active network capabilities: measure Power over Ethernet (PoE) to ensure the correct power is available on the correct pins, use Port Discovery to ensure the correct speed and duplex capability are available; connect at gigabit Ethernet and run ping tests to verify connectivity to IP hosts; discover network devices using Cisco Discovery Protocol (CDP) or Link Layer Discovery Protocol (LLDP); VLAN discovery; Traceroute function displays the path internet packets travel to reach a specified destination. The Net Chaser™ also saves test reports and exports to PC's.
Features
Bit Error Rate Test (BERT), Signal to Noise Ratio (SNR), SKEW
BERT only test 100Mbps & 1Gbps
Measures and displays length for each pair in feet or meters
Improperly terminated cables are clearly displayed on a color graphical wire-mapping display
Detects Length to Opens & Shorts
Verifies Continuity for RJ45, and Coax cables
Saves test results and easily uploaded to a computer
Tone Generation
ID Only remotes (Network and Coax) – up to 20 available.
Testing and ID Remotes – up to 8 available.
Active Ethernet (Link Capability & Link Status)
Detects PoE/PoE+ and load test for voltage drop
IPV4 Support
VLAN Discovery
Ping to a specific IP or URL address
Ping up to 10 addresses at a time
Link Light
DHCP
Discovers CDP and LLDP Protocols
Traceroute
SPECIFICATIONS
Length Technology
Time Domain Reflectometry and Capacitance
Power
U.S. Patents and Patents Pending
Wall Power Adapter:
Input 100-240VAC 50/60Hz, Output 12VDC 2.5A
DC Input Jack: 10-28VDC, 20 watts max
Battery pack – Rechargeable Li-ion rated 7.8V, 5500mAh, initial capacity Battery life – Linked @ 1Gb – 8 hours minimum

Output Connectors
8-Position shielded modular jack (Data)
F-coax (video)
Interfaces
Micro USB, SD flash card
Battery Life
Battery pack – Rechargeable Li-ion rated 7.8V, 5500mAh, initial capacity
Battery life – Linked @ 1Gb – 8 hours minimum
Active, not linked – 20 hours
Altitude Altitude
10,000 ft. (3,048 m) operating
Temperature Operating
OpOperating: -10 to 60°C
Storage: -30 to 70°C
Humidity
10 to 90% non-condensing
Enclosure
High-strength PC/ABS plastic with V0 rating with boot
Size
2.41"H x 4.18"W x 9.03"L (6.12 x 10.61 x 22.94 cm)
Weight
With batteries: 1 lb 12 oz
Warranty
1 Year