Home/Wireless Infrastructure/EnGenius/EWS320AP
---
EWS320AP
---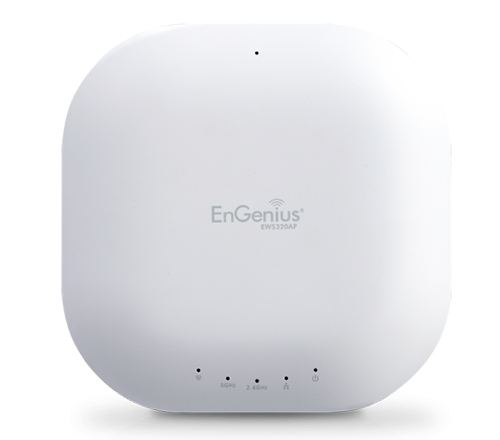 < Up to 28 dBm high RF power on both 2.4/5 GHz for longer range coverage. Sectorized 3D antenna design
< Supports IEEE 802.11a/b/g/n standards. Up to 450 Mbps on each band
< Dynamic Channel Optimization
< 6 internal MIMO antennas / Dual band / Three Stream
< Seamless Roaming, Fast Handover
< Band Steering shifts Dual band clients to 5 GHz for better throughput performance
VIDEOS
---
---
Manage Up To 50 EWS320AP Units At The Same Time
Can be configured, managed and monitored with several Neutron Series Access Points from the browser-based interface of one Neutron Series Wireless Management Layer 2 PoE+ Switch. After a Neutron Series Layer PoE+ Switch discovers the EWS320AP it can be "added" and set to be "managed" by the Switch. The Neutron Wireless Management solution supports bulk firmware upgrades and other features that can be set and managed across deployed Neutron Series Access Points simultaneously.
---
Faster File Transfers. Smoother Video Streaming.
3 streams per radio delivers up to 450 Mbps on both the 2.4 and 5 GHz frequency bands.
---
Unlimited Flexibility, Complete Scalability with ezMaster™
Deploy as a standalone AP or part of a scalable Neutron Solution. Manage up to 50 APs via a WLAN Controller Switch or centrally manage 1,000+ APs and Switches via ezMaster Network Management Software. Together with Neutron Switches and APs, ezMaster is a flexible, highly scalable solution offering centralized network management with rich reporting and analytics, enterprise-class features and NO AP licensing or subscription fees.
---
The Dual band (up to 450 + 450 Mbps) Ceiling Mount EWS320AP can operate as a stand-alone Access Point connecting to third-party PoE-capable (IEEE 802.3at-rated) switches but more control and versatile management of the Access Point is achievable when it is part of an EnGenius Neutron Series Wireless Network Management Solution because the AP includes firmware that enables it to be immediately discovered, configured, monitored and managed from a compatible Neutron Series PoE+ Controller/Switch (EWS5912FP, EWS7928FP or EWS7952FP). This capability enables IT managers to deploy and manage up to 50 EWS320APs from a Neutron Series Controller/Switch allowing for simplified management from one browser-based interface including simultaneous firmware upgrades, clustering, traffic monitoring, bandwidth steering and many other features that can be reset or reconfigured from the convenience of the IT manager's desktop.
Technical Specifications
Hardware
RF: 2.4 and 5 GHz Frequency Bands
Standard: IEEE 802.11a/b/g/n
Radio I: 11b/g/n: 2.412~2.484 GHz
Radio II: 11a/n: 5.18-5.24 and 5.26-5.32 and 5.5-5.7 and 5.745-5.825 GHz
Data Rate: Up to 450 Mbps in both frequency bands
Memory: 64MB
Flash Memory: 16MB
Power Consumption: Up to 22W
Antenna
3 x 3dBi 2.4 GHz antennas RF: 2.4 and 5 GHz Frequency Bands
3 x 5dBi 5 GHz antennas
Physical Interface
1 x RJ-45 Gigabit Ethernet (10/100/1000 Mbps) - PoE Capable
1 x Reset Button
1 x Power Connector
Power Requirements
Power Supply: 100 to 240 VDC ± 10%, 50/60 Hz
(depends on different countries)
Active Ethernet (Power-over-Ethernet, IEEE 802.3at)
Power Adapter (United States) 48VDC/0.375A
Device: 12V/2A
Modulations
OFDM: BPSK, QPSK, 26-OAM, 64-QAM, DBPSK, DQPSK, CCK
Operating Channels
2.4 GHz: US/Canada 1-11
5 GHz: Country dependent for the following ranges:
36, 40, 44, 48, 52, 56, 60, 64, 100, 104, 108, 112, 116, 120, 124, 128, 132, 136, 140, 149, 153, 157, 161, 165
Management
Operation Modes
Access Point, Mesh AP (available soon)
Multiple BSSID
Supports up to 8 BSSIDs per radio
LAN
IP (check validity and DHCP server IP range) MAC
SSID-to-VLAN Tagging
Supports 802.1q SSID-to-VLAN tagging
Spanning Tree
Supports 802.1d Spanning Tree Protocol
Wireless
Wireless Mode: 11a/11b/11g/11n
Channel selection (settings vary by country)
Channel bandwidth (Auto, 20 MHz, 40 MHz)
Transmission rate:
2.4 GHz: 11n only, 11b/b/n mix, 11b only, 11b/g, 11g only
5 GHz: 11n only, 11a/n mix, 11a only
QoS
WMM (Wireless Multimedia)
Wireless Management Features (with Neutron Series Switch)
Access Point Auto Discovery and Provisioning
Access Point Auto IP Assignment
Access Point Cluster Management
Remote Access Point Rebooting
Access Point Device Name Editing
Access Point Radio Settings
Band Steering
Traffic Shaping
Fast Handover
Fast Roaming
Access Point Client Limiting
Mesh Network*
Wireless Security (WEP, WPA/WPA2 Enterprise, WPA/WPA2 PSK)
VLANs for Access Point- Multiple SSIDs
Guest Network
Access Point Status Monitoring
Wireless Client Monitoring
Wireless Traffic & Usage Statistics
Real-time Throughput Monitoring
Visual Topology View
Floor Plan View
Map View
Secure Control Messaging
SSL Certificate
Local MAC Address Database
Remote MAC Address Database (RADIUS)
Unified Configuration Import / Export
Bulk Firmware Upgrade Capability
Intelligent Diagnostics
Management (cont.)
Tx Power Control
Adjust transmit power by dBm
Configuration
Web-based configuration (http)/Telnet
Firmware Upgrade
Via web browser, settings are reserved after upgrade
Administrator Setting
Administrator Username and Password Change
Reset Setting
Reboot (press and hold for 2 seconds).
Reset to factory default (press and hold for 10 seconds)
System Monitoring
Status Statistic and Event Log
SNMP
V1, V2c, V3
MIB
MIB I, MIB II (RFC1213) and private MIB
Traffic Shaping
Incoming and outgoing wireless traffic shaping
Auto-channel Selection
Automatically selecting least congested channel
Bandwidth Measurement
IP range and bandwidth management
Auto Reboot
Reboot Access Point by minute, hour, day, or week
Backup and Restore
Save and restore settings through Web interface
CLI
Supports Command Line Interface
Diagnosis
IP pinging statistics
Log
SysLog and Local Log support
LED Control
On/Off
AP Detection
Scanning for available EnGenius APs
Wireless Security
WPA/WPA2 Personal (WPA-PSK using TKIP or AES)
WPA/WPA2 Enterprise (WPA-EAP using TKIP)
802.1X RADIUS Authenticator: MD5/TLS/TTLS, PEAP
SSID broadcast enable/disable
MAC Address Filtering, Up to 50 fields
L2 Isolation (Access Point mode)
QoS (Quality of Service)
WMM (Wireless Multimedia)
Environmental & Physical
Temperature Range
Operating: 0 to 50ºC (32º to 122ºF)
Operating humidity: 0 to 90%
Storage temperature: -20ºC to 60ºC (-4Fº to 140ºF)
Certifications
FCC, IC
Maximum data rates are based on IEEE 802.11 standards. Actual throughput and range may vary depending on many factors including environmental conditions, distance between devices, radio interference in the operating environment, and mix of devices in the network. Features and specifications subject to change without notice. Trademarks and registered trademarks are the property of their respective owners. For United States of America: Copyright ©2014 EnGenius Technologies, Inc. All rights reserved.
Dimensions & Weights
EWS320AP Device
Weight: 0.80 lbs.
Length: 6.5"
Width: 6.5"
Height: 1.64"
Package Contents
EWS320AP Dual Band N900 Indoor Access Point
12V/2A Power Adapter
T-Rail Mounting Kit
Ceiling Mount and Wall Screw Kit
Mounting Bracket
RJ-45 Ethernet Cable
Quick Installation Guide
Warranty
1 Year