Home/Structured-Cabling/T3innovation/Arc Chaser™
---
Arc Chaser™ Testing & Monitoring TDR
21st Century Dual Mode TDR for Testing and Monitoring Energized and Unenergized Cables
The Arc Chaser Dual Mode TDR is capable of finding faults (Opens, Shorts, Arc Faults) on fully energized cables up to 600 Volts. Arc Chaser can monitor live cables for intermittent conditions, capturing these "events" and reporting where and when they occur. Using advanced Spread Spectrum Time Domain Reflectometry (SSTDR), Arc Chaser is capable of accuracy to fault of better than 1%.
Works on both energized or unenergized cables

Discover cable events which can only be shown under load

Monitors intermittent arc faults, opens and shorts
Find faults caused by vibration that are otherwise hidden
Shows results in graphical or text format
Clear and simple view of faults
Saves reports, transferrable to PCs for storage, and printing
Maintain history of information
Cable fault finding
Easily verify quality of entire cable length
Tone generation
Signal tracing of cables
Cable Test Setup
Walks users through cable test setup
Self-calibrates to maintain accuracy over time or due to environmental change
No metrology calibration required
English or Metric Measurements
International applications
600V Category II
Meets full international requirements for working on energized cables.
Rechargeable Lithium Ion Battery Pack
8-10 hours of battery power in the field
---
---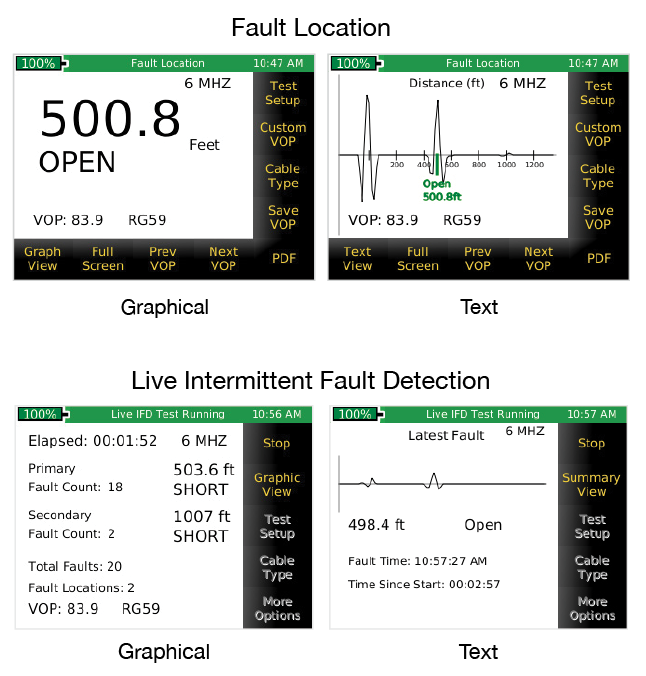 Physical Features
Color Touch Screen Display
Easy to navigate in all lighting environments
Compact Form Factor
Usable in tight space environments
3rd Generation Rechargeable Lithium Ion Batteries
8-10 hours of continuous use.
Benchtop, Handheld, or Hung Up
Easy to use for field flight line and production work
Uses Modular Cable Interfaces
Can connect to many different types of systems
Waterproof/Shock Resistant Transport Case
Protects equipment in harsh conditions
SD Card for Data File Transfer of Cable Tests
Easy to maintain report files and save for later viewing
Upgradeable Firmware
Stay up to date with cable settings, features and enhanced software upgrades.
Specifications
Measurement Technology
Spread Spectrum Time Domain Reflectometry
U.S. Patents and Patents Pending
Power
Wall power voltage input Range: 10→28V, 20W
Arc Chaser will run with wall power down to 4V, however batteries will not charge unless input voltage is greater than 10V.
Totex battery pack, with four LIO Rechargeable Cells.
Full screen brightness, dynamic test, 7.8V battery: 335mA.
0→100% brightness, @7.8V: 90mA
Typical battery current: 185mA
Low power mode (or timed out): 70mA;
Off mode: 420 μA board (+500uA battery pack circuitry.)
Maximum Range
12,000 ft (3,657m) at .999 VOP
Maximum testable cable length varies with VOP and cable type.
VOP (%) with 3 digit precision ranging from 20.0% to 99.9%
Output Connector
Banana Jacks 600V CAT II
Leader Cable
Cable Assembly, 5 ft. (1.5m) 600 Volt CAT III, 95 Ohm
Battery Life
Battery Pack, initial 5200 mA-hr (typical):
Operating at static screen, or occasional static test: 185mA (assuming 65% LCD brightness)
Dynamic Operation : 280mA (assuming 65% LCD brightness)
Low power – 70mA, assuming full charge of 5000mAH, 71 hours.
Off - 420 μA board (+500uA battery pack circuitry.)
Altitude
6,500 ft (2,000 m)
Temperature
Operating: (-10 if standard crystal) -20 to 70°C);
Storage: (-30 to 80°C)
Humidity
10 to 90% non-condensing
Enclosure
High-strength PC/ABS plastic with V0 rating with boot
Size
2.41"H x 4.18"W x 9.03"L (6.12 x 10.61 x 22.94 cm)
Weight
With batteries: 1 lb 9 oz (862 g)
Safety
Compliances
Complies with ANSI/ISA 82.02.01 (61010-1) 2004, CAN/CSA-C22.2 No 61010-1-04, UL 6101B (2003) and IEC/EN 61010-1 2nd Edition for measurement Category III, 600 V, EMC EN61326-1
Warranty
1 Year
Optional Accessories
Product Number
Description


TP200

TP200
TrakAll Tone Probe


AD006

AD006
Adapter: Multi-Pin Connectors